Costumes
Preparing for D-Day – The Rio Carnival 2022
How to choose your Carnival Costume, and the Preparations for the Big Samba Parading Day in Rio.
The Rio de Janeiro's Carnival or Carnaval as it is popularly known in Portuguese; with all its excesses is one of the world's spectacular sights of vibrant color and artistic events accompanied by scintillating music, poetry and dance. This four day wild celebration, which takes place before the beginning of Lent is celebrated at every corner of Brazil. However, the one in Rio de Janeiro is undoubtedly the biggest and the best in the world,   almost like a dream.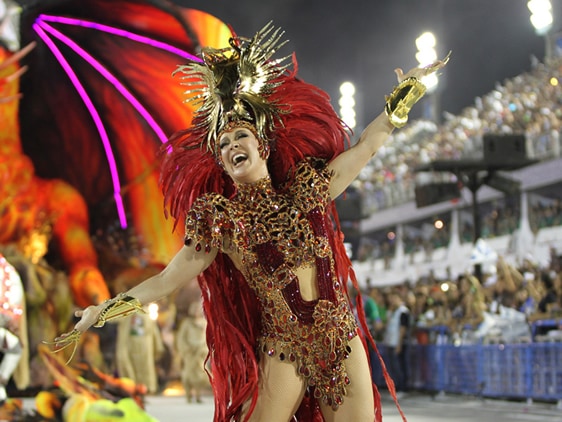 Parading in the 2022 Rio Carnival
If you wish to parade to the breath taking tunes of the samba in the Rio Carnival celebration, you must be dressed up in the most striking Samba Costumes. Imagine parading before one of the world's biggest audience with foreign visitors alone that outnumber 500, 000 every year! Singing the Samba and dancing to the reverberating beats of the Carnival with millions of people watching you on television is a delightful experience. Almost everybody who has participated in theparade will tell you how much they enjoyed.
Picking the right carnival costume
Picking the right costume can be an exhilarating task. You will be part of a specific wing or 'ala' of a Samba School. If you choose a Carnival ground costume, you will be part of a group of more than 200 people dressed up in the same attire who dance on the floor.  Float costumes look more glamorous but is more difficult to handle. Reserving a costume in advance is recommended as the costume needs to reflect the theme or 'enredo' of the group that you are playing for. You can pre-order your costumes and pick it up in Copacabana on February 25th, February 26th and February 27th, 2022.
Tips on How to Choose a Rio Carnival costume:
Our VIP SERVICE costume packages include roundtrip transfers from the ATLANTICO COPACABANA HOTEL. So if you require being assisted by our tour guide and are concern with safety and comfort, this is the way to go. If you opted for the VIP Service, on parade night you will be transported to the Sambodromo warming-up area (concentracao) and, in the company of our guide and fellow members of "Escola de Samba", you will participate in the unforgettable parade that is Carnival in Rio. The parade itself lasts approximately 50 minutes. Each school has 82 minutes to cross the runaway.


You can do it on your own. Get your costume, go to the Sambadromo by cab or using the Rio's safe subway system and have a blast. Your carnival costume is your ticket to february with the school. And yes, it's pretty safe to do it on your own. The subway system is full of people with costumes from all samba schools. 


When purchasing your Carnival costume, we will need to get some measurements from you such as SHOE SIZE and CLOTHING SIZE S/M/L/XL. All costumes are made to order, so this piece of information is really important for us to prepare your own costume. 


All costumes come with useful instructions on where to go and whom to contact in case you have any questions or need anything. The lyrics and the link to download your samba song will be sent to you by mid January as well. You will be contacted by our Help Desk staff, if we have any questions and to give you further instructions.
Helping your school win points
The Samba School is not an institution, but a community affair with the entire neighborhood joining in to help their samba troops. You can simply attend one of the samba nights and learn how to dance. Ensure that you thoroughly enjoy the parade, keep your energy level high and move in close coordination with the rest of the paraders. Make sure to reach the venue 2 hours before the march for the warm up. It helps you understand how to march by just following the people ahead, even if you have missed the rehearsals. And last but not the least; do not forget to sing your samba song!
Warming Up Time
Please arrive at your warming up area at least 2 hours before the parade. Below you will find the WARM UP TIMES. The schools are schedule to parade two hours later. Ex. The Samba School warms up at 19 hrs (7 PM) and parades at 21 hrs (9 PM).
The 2022 Warming Up Time table:
Warming Up
Time
February 25th
February 26th
February 27th
February 28th
20:00
To be defined
To be defined
Imperatriz
Paraíso do Tuiuti
21:00
To be defined
To be defined
Mangueira
Portela
22:30
To be defined
To be defined
Salgueiro
Mocidade
00:15
To be defined
To be defined
São Clemente
Unidos da Tijuca
01:45
To be defined
To be defined
Viradouro
Grande Rio
02:50
To be defined
To be defined
Beija-Flor
Vila Isabel