Rio Carnival Balls
Be Part of the Rio Carnival Balls
The Balls are a tradition of the carioca Carnival, be a part of it.
The Rio Carnival 2023 is a six day long nonstop party with music, dancing, parades, floats, merry making, drinking and very little sleeping. One of the features that make it so enthralling is the Rio Carnival Balls.
Brief History
The first masked ball took place in 1849 and cost two thousand reis to enter. The next occurred in the 1870's. Soon popularity of balls grew and it became only natural to conduct balls during the Rio Carnival, when merriment and the party atmosphere was the most. Major hotels and establishments began holding grand and ostentatious events like the Magic Ball at the Copacabana Palace or the Ball at the Theatre Palacio.

Over time the Night Club culture took over and the Rio Carnival evolved. Today the Magic Ball at the Copacabana Palace is the only remaining luxury ball and the Scala Rio Nightclub has become hugely popular with its six thematic balls during the Carnival.
The Copacabana Magic Ball
The Magic Ball at the Copacabana Palace Hotel is the most glamorous and prestigious Rio Carnival Ball. Ticket prices are the most expensive and elite event of the Carnival. The guest list comprises of well known international names like Brigitte Bardot and Vincent Cassel, and of course Brazilian film stars and socialists. It is a red carpeted and widely televised event, full of high fashion and five star service. If your budget permits, the Magic Ball is one event you don't want to miss.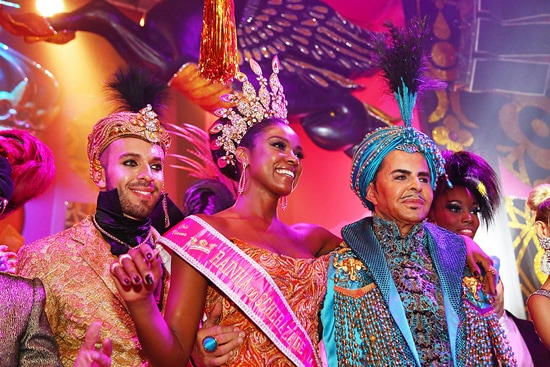 The Fabulous Street Parties
The Rio Carnival also has a number of free Carnival Balls also called Street Parties. Party goers, locals, musicians and dancers all gather at a public place and begin to parade down the streets, following a band playing the Carnival music. It is an ideal way to experience the sense of the city through the eyes of the locals. The best part of course is that it is absolutely free.
Speaking of Tickets
All the 2023 Rio Carnival Balls offer a few types of tickets. The Magic Ball's tickets can be purchased with tables, or standing tickets that don't give you a seat in the tables but are the cheapest option. The Magic Ball is the most popular ball and you can book your tickets from Mid-December.