What is it?
Front Boxes (also known as "frisas") are chairs inside small boxes with fences, very close to the parade, in four rows of boxes, from A to D. Row A is closest to the runway and row D is the farthest. The Front Boxes offer the most privileged view of the Sambadrome parades. Each Front Box can accommodate up to 6 people, but all tickets are sold per person, so you can buy a single ticket and then join five other people that you will meet in your box.
How is it?
The Front Boxes are available along the entire sambadrome, at ground level, as close as possible to the runway, in four rows, from A to D. The rows are located at different levels, with row B being higher than row A and so on, making it possible for everyone to have a great view without being disturbed, even if the people at the front stand up.
Because they are elevated, the further back your row is, the more aerial your view of the parades will be. In row A you will have the closest view of the runway, and it may feel like you are part of the parades, but because it is on the same level as the parade, you do not have a full view of the floats. Rows B, C, and D offer a higher and slightly aerial view and are not disturbed by those who pass on the runway, but are further from the runway.
The Front Boxes have numbered chairs for you to sit on, ideal for those who want carefree comfort. In addition, in the Front Box area you will find exclusive bathrooms and also a waiter service throughout the night to buy your food and drinks without leaving your place.
Behind the sectors there are bathrooms, small bars and fastfood restaurants.
Customer profile
For those who want to see the parades with comfort, be able to sit in a chair, with a assigned seat all night and be very close to the parade.
Location
The Front Boxes are located in sectors 2, 3, 4, 5, 6, 7, 8, 9, 10, 11 and 13.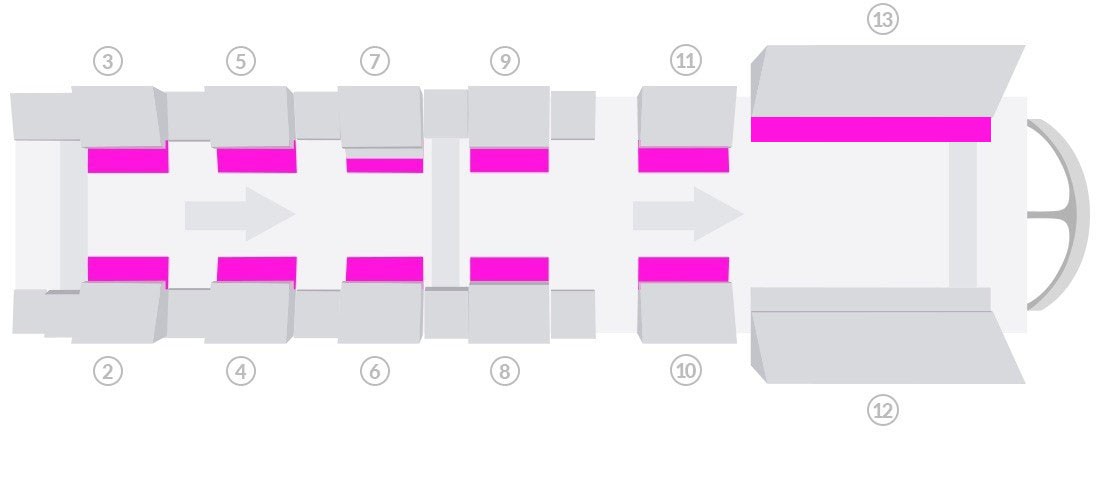 Capacity
Approximately 1,150 people per sector.
Transfer
Our Special Transfer costs U$98 per person and is a round-trip transportation to the Sambadrome, with boarding points at the gates of Sector 8 (even side) and Sector 9 (odd side).