Barra da Tijuca
One of the newer localities of Rio de Janeiro, Barra da Tijuca or Barra is situated on the Atlantic Ocean.
In this neighborhood, everything appears to be oversized, including the natural geographic surroundings. The beach is 18 kms long and is home to South America's largest mall and convention centre and people here shop at hypermarkets, as opposed to normal sized super markets.
Sport lovers' paradise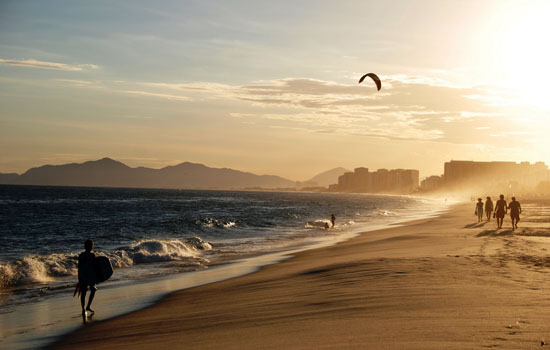 If you like participating in or watching sports, this area of Rio de Janeiro, with its numerous sports clubs and tournaments  will provide you with ample opportunities. While tennis can be played at Rio Sports Centre, the Golden Green Golf Club allows you to play a round of night time golf. If you've always wanted to try parachuting, you could do so at the Aero Clube do Brazil. Popular beach sports here are surfing, kite surfing, wind surfing, body boarding and beach volleyball. Several surfing championships, including the Rio Marathon Surf Internacional and Circuito Petrobas are held at Barra and the area also has quite a few surfing schools. Bowling and karting are also popular here.
Barra Beach
The 18 km beach is the largest in Rio de Janeiro. Its huge waves and beautiful white sand make it a popular place for several beach sports, already mentioned above. In addition, several bars and restaurants serving up great cocktails and meals also dot the beach. A popular meeting point, especially for the youth and surfers is Pepe beach. Cabana do Pepe is a sandwich shop that was started by Pepe, a famous hang glider who died while hang gliding in Japan. The restaurant is now run by his widow and serves healthy sandwiches and delicious fruit smoothies. The sunset at this beach is particularly beautiful during winter.
Outdoor attractions
Rio Water Planet is supposed to be the largest aquatic themed park in Latin America, with its numerous pools, waterfalls, indoor and outdoor slides and rides.  
Barra also has a number of ecological parks, including Barra Woods and the 43 acre Chico Mendes Ecological Park, named after the Brazilian environmental activist who was murdered for his valiant efforts to try and save the Amazon. Here you can see several endangered species, including the broad nosed caiman, the red footed tortoise, lizards and three toed sloth. 
Shopping
Besides Barra Shopping, which has over 500 stores, its own monorail system and is spread over a 4km length, Barra has over 10 major shopping malls, most of them located on Americas Avenue. At these malls you can find international chain stores, bargain stores, international and Brazilian designer wear, book stores, etcetra and a variety of dining options.
Multinational cuisine
Most of Rio de Janeiro has excellent and varied eating options but this neighborhood is known particularly for its large variety of uncommon country themed restaurants, such as  Koskenkorva, which serves Finnish food and Stambul, which serves Arabian food.