Rio de Janeiro
Copacabana Beach is one of the postcards of the City of Rio de Janeiro
But Copacabana is not only the name of the beach, it is also dynamic neighborhood.
This southern district of Rio de Janeiro is located close to Ipanema and is best known for its 4 km Copacabana Beach. This popular tourist area, affectionately called Copa, has the highest concentration of hotels in the city. The Lido area will provide architecture enthusiasts the opportunity to marvel at numerous art forms, nouveau and neoclassical structures.
Copacabana Beach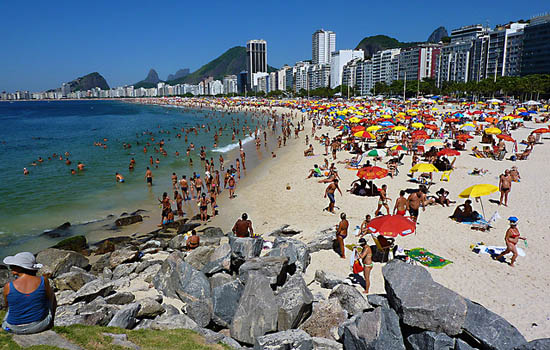 ---
Calm waters and white sands make this beach a popular spot for locals and tourists to swim, play football, volleyball or just catch a bit of sun throughout the year, but especially during summer. Several beach kiosks dot the 4 km stretch, serving beach goers with snacks and refreshments. The promenade bordering the beach for all of its 4 kms was designed by Roberto Burle Marx and has a Portuguese style black and white tiled wave pattern.
New Year's at Copacabana
The Copacabana Beach's New Year's festivities are known worldwide and are recognized as the second best party, second only to New York's Times Square celebrations. People dress in white, which is considered to be an auspicious color for the occasion and make an offering of a white flower to Yemanjá, the goddess of the sea. Elaborate fireworks take place at midnight and light up the sky for half an hour. It is estimated that over 2 million people from all over the world participate in these celebrations every year. In the past 10 years, concerts by popular artists have also formed a part of the New Year events and have included performances of singers like Rod Stewart, Lenny Kravitz and The Rolling Stones, the latter drawing a record 1.5 million fans to the beach.
The Copacabana Palace Hotel
Opened in 1923, this iconic landmark is considered to be the most luxurious and upscale hotel in Rio de Janeiro. Several international stars have stayed here on their visit to Copa, including Queen Elizabeth, Eva Peron, Rock Hudson and Walt Disney. Several parts of the famous movie Flying to Rio, starring Fred Astaire and Ginger Rogers was also shot here. The penthouse suites and most of the rooms overlook the white sands of Copacabana beach.
Places of historical and cultural importance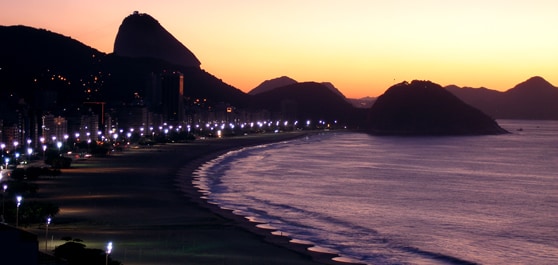 The Forte de Copacabana which is today a cultural center was originally built as a military base in 1908, on the eve of World War I. An imposing structure, the fort has reinforced 39 ft thick concrete walls, and cannons that could fire up to a distance of 23kms out to sea. Still on view are several pieces of the army's wartime equipment. The Café do Forte located on the seaside parapets of the fort, make a good pit stop to fuel up on delicious pastries and sandwiches.
 
The Fundação Eva Klabin Rapaport located in the former residence of the famous art and antique collector, houses over a 1000 pieces that she collected from all over the world, including artefacts from ancient Greece, Egypt and China. The collection is made up of paintings, sculptures, figurines, carpets, ornaments, jewellery and silverware.
Bairro Peixoto and Fisherman's Corner
These two parts of Copa remind you of a bygone era, in the otherwise concrete dominating and bustling city. Bairro Peixoto retains an old world charm where the elderly play chess outdoors at a quiet square and children play in the nearby park. Buildings here are no higher than 4 storeys high, in stark contrast to the rest of the neighborhood. 
Located next to the Fort, is Fisherman's Corner where fisherman have been coming here early every morning to earn a living for the past 100 years. If you go early enough, you may even be able to help them rake in the fishing nets and purchase the freshest catch of the day, which you could ask your hotel to cook up.
The nightlife
Bunker 94 is one of the old night clubs of Rio de Janeiro usually playing a different genre of music every night. Fosfobox is one of the new clubs, and mainly plays electronic music at its basement location. Accommodating only around 150 people the sound system here is excellent, and it has two bars, one serving colorful cocktails and the other selling cheaper beers. Copa also has a number of gay bars, including Le boy, La girl and The Copa Gay Nightclub. Mariuzinn is a popular club, with experienced dancers frequenting the place.
Carnival time activities
The most famous of all the Carnival Balls is the Magic Ball at Copacabana Palace Hotel, which a number of VIPs attend. It is a black tie affair, so dress accordingly if you plan to attend and get your ticket well in advance. The street party's most popular bands of the region are Monobloco, which performe on the Sunday after Carnival and Rancho Flor do Sereno which performs on the evening of Carnival Monday. Both take the route of Avenida Atlantica. Bip-Bip is another popular street party band, parading on Carnival Sunday and Shrove Carnival. They meet at Bar Bip-Bip on Rua Almirante Goncalves.
Eating out in Copacabana
As should be expected, Rio's most popular neighborhood has numerous options for eating out, suiting a variety of palates and budgets. The mid range Don Camillo serves seafood and has a daily change in menu, with a few standard meals. Highly recommended is the baked seafood pie and specialty thin crust pizza. Accompanying your meal is a band playing traditional Italian music. For typically Brazilian food, try the small but extremely authentic Siri Mole serving dishes such as acarajé and moqueca de siri. For a meal with a view, the upscale Le Saint Honoré, located on the 37th floor of the Le Meridien hotel serves French-Brazilian fusion cuisine, serving dishes like the Amazonian fish 'surubim' and lamb fillet with fried yucca flour. This restaurant has on several occasions been voted the No. 1 French restaurant in Rio de Janeiro.  The Bakers, is the best option for a quick snack or dessert, serving American and Italian style sandwiches, scrumptious desserts and cakes and excellent coffee.