Gavea
Gavea has plenty of things to do outdoor, very good restaurants and nightclubs.
Gávea in the south of Rio de Janeiro has a vibe that's hip and happening but also culturally stimulating, mainly due to the presence of a number of schools and colleges, including Pontificia Universidade Católica (PUC), one of the world's top rated private universities. This upper class neighborhood is also home to several Brazilian musicians, screenwriters, directors and other famous local personalities, including the headquarters of the city's soccer team, Flamengo.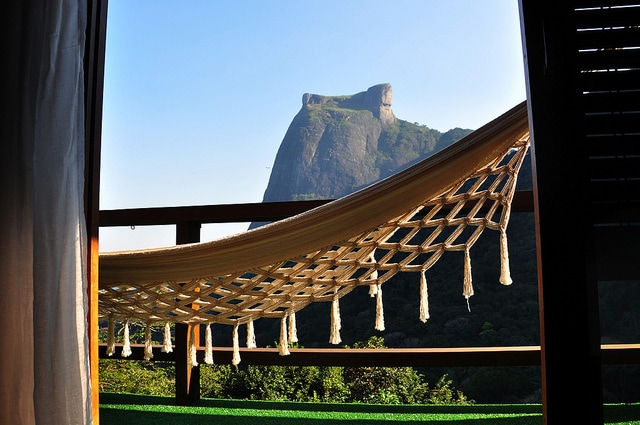 Things to do outdoors
There's plenty to explore around Gávea. You could try your hand at winning some money at the Jockey Club racetrack, which has a beautiful view of the surrounding mountains. Races are usually held at night on Fridays and Mondays and during the day, on the weekend. On Sundays, the weekly antique fair at Santos Dumont Square is a great spot for picking up unusual souvenirs. The nearly 120 acre Parque de Cidade is a great place for those interested in exotic plants and its lush lawns and several lakes, make it one of the prettiest picnic spots in Rio de Janeiro.
Exploring Gávea's history and culture
This locality also contains several buildings that house material of historical and cultural importance to the city. At the Parque de Cidade, a beautiful 19th century mansion,which houses the Museu Historico da Cidade, (City History Museum) contains artifacts and information that depict the history of Rio de Janeiro from as far back as 1565. The Instituto Moreira Salles which holds various exhibitions, also houses over 80,000 old photographs of Rio.
Where to eat
The neighborhood contains a selection of places to eat, suiting a variety of budgets. While Braseiro da Gávea serves affordable hearty meals, such as pot roast, fried chicken and steak, the mid range Guimas, which has been in existence for over 20 years, offers traditional dishes and beverages with an imaginative twist. Their version of the caipirinha, the caipivodca for example, is served with vodka. For top end dining, 00 (Zero Zero) serves Brazilian food that has a hint of Mediterranean and Asian flavours. While you're out shopping or checking out the sites, there are a number of places to stop at, for a delicious snack. The Bacalhau do Rei, serves delicious cod fish croquettes, while Chez Anne is well known for its fudge
The nightlife in Gávea
The presence of a huge student population, combined with the fact that several affluent individuals live in this area, has given rise to a vibrant nightlife here. The 00, which is housed at the Planetarium and serves as a restaurant during the day, is at night transformed into a nightclub, with a renowned vodka bar. Other clubs and bars to definitely stop by, if you're in the area, include, Girl from Gávea, Hipodromo, B.G. Bar and Boteco Espelunca. A favorite event amongst the student population is the street party that happens every Sunday night at Santos Dumont Square, where Bossa Nova music is popular. The atmosphere is relaxed and one can mingle with people from the film and theatre fraternity.