Rio de Janeiro
Ipanema, a famous chic area of Rio de Janeiro
With a world-famous beach, Ipanema is a neighborhood full of options, stores, restaurants, nightclubs, and art galleries.
Located in the South Zone of Rio de Janeiro, this locality is known worldwide, if for nothing else, for the famous 1960's song 'Girl from Ipanema'. A well-laid-out neighborhood, with a grid system, it is easy to find your way around here. One of the most expensive localities of the city, one can find a number of art galleries, a university, numerous restaurants and cafes, and of course the beautiful beach. This region gets its name from the old Tupi word meaning 'bad water', a reference to the bad fishing area here, as the waves end too close to the sand, shoving the fish away.
Ipanema Beach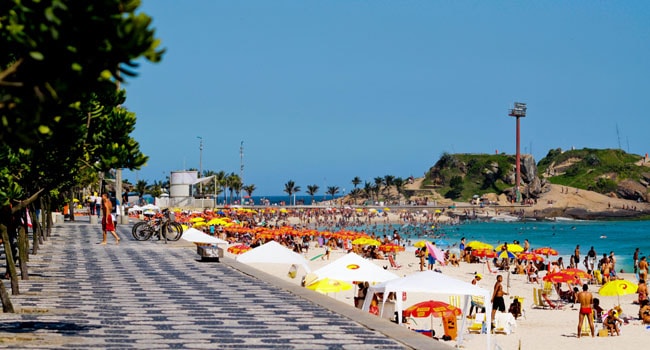 This beautiful beach provides a good view of the Dois Irmãos mountains, which rise on its western side. The relatively calm waters allow for swimming in certain areas, while popular water sports here include football, beach volleyball, and footvolley, a Brazilian sport, that is a combination of football and volleyball. Bodyboarding and skimboarding are popular here, as is surfing, with the waves in winter going up to 9 ft. The beach also has a gay-friendly area, located near Rua Farme de Amoedo, while Posto Nove or Lifeguard Post No. 9 is the unofficial congregation point for the young and beautiful of Rio de Janeiro.
Sundays in Ipanema
Sundays provide an excellent opportunity to watch Capoeiristas perform around the beach area when the road nearest to the beach is closed to traffic. As a result, the road is also filled with cyclists, roller skaters, skateboarders, and plenty of locals, who use the opportunity to stroll around the beautiful beach. Praca General Osario is turned into a Hippie Market every Sunday, officially called Handicrafts and Arts Fair of Ipanema, with numerous vendors selling local handicrafts, mementos, food, jewelry, musical instruments, clothes, figurines, photos, and paintings. This is a great place to pick up a souvenir or gift to take home.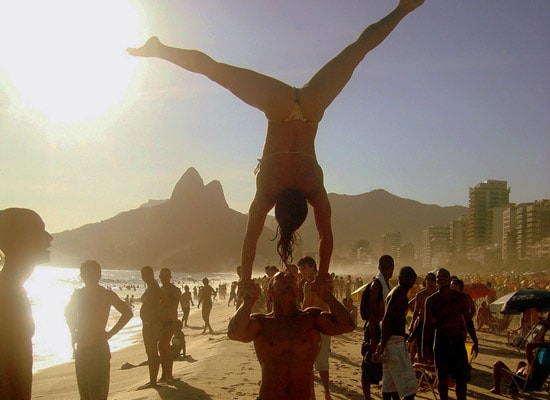 A center of iconic fashion
Most of the best clothing boutiques in Rio are supposed to be located in Ipanema, with many of them situated on Visconde de Piraja. This is no surprise, as the neighborhood has a history of setting fashion trends, especially in beach wear. It was here that the famous Tanga bikinis of Brazil were first worn in the 1970s and local actress Leila Diniz was the first pregnant woman to wear a bikini at the beach. Gisele Bundchen's popular line of Ipanema flip flops also gets its name from here.
Museums and Art Galleries
Just a couple of meters off the beach is Galeria de Arte Ipanema which promotes contemporary Brazilian artists through shows but also has some permanent exhibits. Bolsa de Arte is another major art gallery. The Amsterdam Sauer Museum pays tribute to the work of French gemologist and jeweler Roger Sauer, who lived most of his life in Rio de Janeiro. On display are some of his rare finds, including Brazilian opals and imperial topaz stones, found only in Brazil. If you're looking to purchase an expensive jewel, the adjoining store will provide you with the opportunity.
Shopping for handicrafts
While Brazil & Cia stock handicrafts made by local artisans and tribals, Gilson Martins has one-of-a-kind handbags and wallets also made by local artisans.
The nightlife
If you want to visit the place where Vinicius de Moraes and Tom Jobim were inspired to write 'The Girl from Ipanema' then head to Garota de Ipanema, located on the beach. Bar Londres, whose theme you would have guessed by now, is an upscale bar playing a lot of British pop and rock music and is popular with the city's football, pop, and soap opera stars. One of the most popular clubs in Rio de Janeiro, Baronneti plays fashionable music and you can shake a leg at one of its two dance floors, which provide ample space, while Barril 1800 has been voted one of the best bars, serving one of the best draught beers in the city.
Culinary delights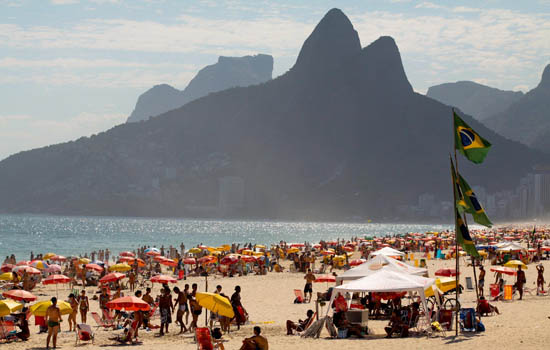 One of the few solely vegetarian restaurants in Rio de Janeiro, Fontes, uses fresh and natural ingredients to serve vegetarian versions of popular Brazilian dishes such as moqueca and feijoada. Ice cream lovers will be spoilt for choice at Caffe e Gelateria Pier, where over 40 flavors of Italian ice cream are offered, ranging from the usual flavors and exotic mixes to sugar-free, soya-based, and even alcoholic ice cream like caipirinhas, champagne, and whiskey chocolate. Satyricon has become famous, as the restaurant that Madonna ate at when she was in the city, while Esplanada Grill is renowned for its steak and fish. This is just the tip of the iceberg though, as this locality has many more restaurants of all sizes and suiting a variety of budgets and tastes.
Carnival time activities
One of the most famous bands of Rio's Carnival is Banda de Ipanema, which parades on three days of the Carnival and attracts over 15,000 drag queens annually. The Bandinha da Ipanema is targeted at children and occurs in the safe confines of Praca General Osorio. Simpatia e Quase Amor is the largest "bloco" in Ipanema and chooses a new theme song every year. This parade which also begins at Praca General Osorio moves along the beach to the border with Leblon and takes place on the Saturday two weeks before the Carnival and on Carnival Sunday. Vem Ni Mim Que Eu Sou Facinha is another smaller band that congregates outside the Casa da Feijoada restaurant on Carnival Friday.
Accommodation in Ipanema
The neighborhood offers mainly mid-range to luxury accommodation options. Ipanema Tower, Praia Ipanema, and Visconti Residence are all centrally located and offer en-suite rooms with 24-hour room service, a business center, a variety of restaurants, and other mid-range hotel facilities. The luxurious Caesar Park hotel is considered by many to be the best hotel in Rio de Janeiro. It is no surprise then that celebrities like Madonna, Jane Fonda, and Ted Turner figure on its prestigious guest list.