Rio de Janeiro
Visit the Barra Beach | Rio Beaches
Barra has the largest beaches in Rio wich are perfect to watersports.
The quaint little neighborhood of Barra da Tijuca is home to one of the cleanest and largest beaches in Rio. Barra Beach is a mere twenty minute cab ride from Copacabana. It doesn't matter whether you are an avid sunbather or surfer, Barra is the beach to visit. The beauty of the beach is such that you will find a secluded spot to relax in, even on crowded weekends.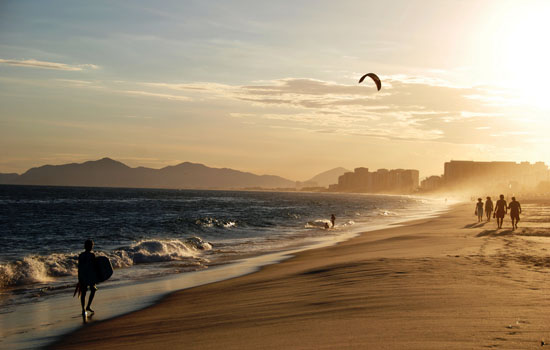 Back to surfing school
Barra is a welcome reprieve during the sweltering summer heat in Rio with a steady, gentle Atlantic Sea breeze providing the much required comfort. The placid water at the tip of the beach is an ideal spot for small children to enjoy themselves in the tropical green waters. Beginners and experienced surfers can enjoy the refreshing waves of Barra, which are known to hit great heights during the tide. Many national and international kite surfing and surfing championships are held here every year. There are surfing schools along Barra Beach that offer one and a half hour sessions at an affordable price. Most instructors do speak English, so you won't have a problem getting by.
Hang out at Pepe's Cabin
Restaurants and barracas or small shacks supply food and drink along the beach, which are usually packed on hot summer weekends from December to March. What's even better is that the beach is safe at night. Barraca do Pepe or Pepe's Cabin is a popular spot along the beach dedicated to Pepe, a pioneer hang glider and surfing champion who tragically passed away during a competition in Japan. The spot is a favorite hangout among the locals with an excellent choice of traditional sandwiches and drinks.
Getting there
Getting to Barra Beach is easy, since many buses ply along Copacabana beach, Ipanema, Leblon, and downtown Rio. However, most buses don't pass the entire length of the beach, so you may have to get off at a backstreet and walk a few yards. In addition, movie theaters, nightclubs, bowling alleys, and shopping – Barra has it all.