Leblon Beach
Right next to Ipanema, Leblon has a stylish, but quieter atmosphere with a family oriented crowd, except on the weekends, when cariocas are out to party all night long.
Rio is blessed with some of the most beautiful beaches in the world and Leblon Beach is very much on top of the list.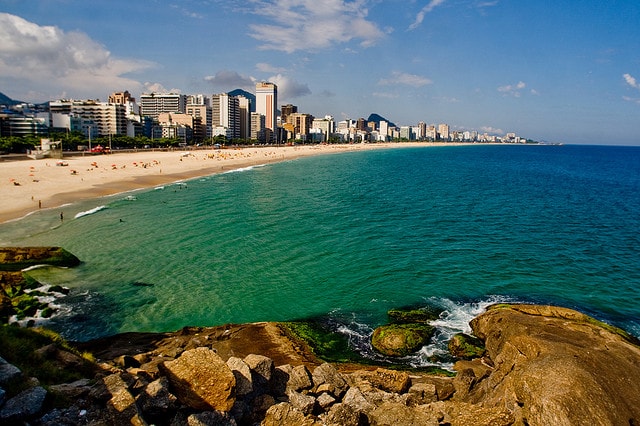 Leblon – A beach paradise for everyone
Leblon Beach is popular with single female tourists since the area is a safe location, making it an idyllic escape. There are two lifeguard towers, Posto 11 and Posto 12, along which there are plenty of sidewalk kiosks serving food and drink round the clock. True to its family oriented atmosphere, the beach has plenty of organized sports for children and adults. Early in the morning you will find school kids playing beach soccer along with their teachers. Afternoons and early evenings bring the more athletic cariocas, who come here to play soccer and footvolley. This is a good time to catch some celebrities in action as well.
Kid-friendly beach
Baixo Baby is a popular spot on the beach exclusively for kids with plenty of activities to keep them engaged all day. The charming beach is packed with hotels, restaurants, and bars. By noon, especially during summer, the beach gets crowded where even the rich and famous leave their posh houses to cool off at the beach. Like Copacabana and Ipanema, the boulevard along Leblon Beach is closed to traffic on Sundays, so if you want to skate or simply stroll along the length of the beach, take a trip to the beach on a glorious Sunday afternoon.
Photographer's paradise
Close to the beach is a spot called 'Seventh Heaven' or 'Setimo Ceu'. This gigantic granite rock presents an overwhelming view of the beaches and mountains. So, don't forget to take your camera along. If you are passionate about photography, taking a long tranquil stroll along Leblon Beach is enough to whet your appetite.