Rio de Janeiro
Visit the Recreio Beach | Rio Beaches
Recreio beach is heaven to surfers and bodyboarders and perfect to those who enjoy peace and tranquility.
The high waves beckon surfers from all over to Recreio Beach in Rio. 12 kilometers from Barra, Recreio is a secluded beach popularly known by the locals as "Pioneers' Playground". The enchanting beach has sugary white sands that shimmer in the sunlight, while its crystal clear waters offer travelers a peaceful place to swim and lay about in the sand. The natural beauty of the beach provided the perfect setting for the movie, Blame It On Rio.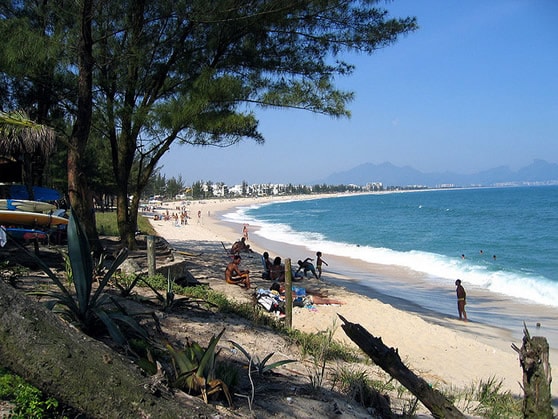 A heaven for sunbathers and surfers
Don't forget to take your surfboard along when the south winds are blowing. Alternatively, you can hire them at the beach. Many international surfing and bodyboarding championships are held at Recreio Beach. The two main surf spots are Posto 10 and Canto do Recreio. While at the beach, you can sip on some cool coco verde or green coconut water that forms the base of many cocktails too. You can grab a tasty sandwich and a drink at one of the bars or kiosks along the beach. The wide expanse of sand is ideal for volleyball too. Buildings along the shore are not very tall, so sunbathers can make the most of it until sunset. You can hop onto a cycle and enjoy the exuberant scenery along the cycle path, which is one of the favorite pastimes in the neighborhood.
Recreio and beyond
On weekends, many middle and upper class residents from Barra head to Recreio for some sporting adventure. Further along Recreio Beach is Pedra do Pontal, which is the beginning of Pontal Beach, famous for its exuberant natural scenery. The rock divides Recreio and Macumba Beach, after which you will find Prainha Beach and Grumari Beach. Located near the rock is a famous skating rink. Further down is Praia do Abrico, which is the only official nude beach in Rio that is enclosed within the Grumari Area of Environmental Preservation. Do head for Recreio if you want to enjoy some peace and tranquility and hit the waves every little while.