Rio de Janeiro
Visit the Copacabana Beach | Rio Beaches
One of the most famous beaches of the world, Copacabana Beach counts with public showers, lockers, bars and even more around the neighborhood.
The vibrant carioca spirit with its casual, colorful joie de vivre is most abundant at Copacabana Beach in Rio de Janeiro. No tourist visits Rio without soaking in the sights and sounds of this place. For everyone, Copa is the neighborhood to see people and to be seen. The two-mile-long beach at the southern end of Rio is undeniably Brazil's hottest spot. A great place to mingle, where the young and the old, the rich and the poor, and the scantily clad strut their stuff along the beach. Besides, it is close to all the attractions in Rio that are within easy reach, including Ipanema.
Caipirinhas, Capoeira, and Footvolley
Rio beaches are known for their excellent surf, and while the sun is hot, there are equally hot bodies that hit Copacabana Beach every day. With more than 4km of extension, its sand is dotted with umbrellas and bars that offer reasonably priced drinks, which are always welcome on hot sunny days. You can expect to taste some of the most delicious, traditional snacks and caipirinhas, a local alcoholic beverage. For a fee, you can make use of the public showers and changing rooms located in basements along the sidewalk. There are lockers too, so make sure you keep your belongings safe while you head to the beach. Undoubtedly, Copa is a beach-lover's paradise as famous as Ipanema Beach. A stroll along the way gives you the opportunity to watch trained performers practicing Capoeira, a Brazilian martial arts form cleverly disguised with dance movements. Besides, there is plenty of beach soccer and volleyball happening along the beach.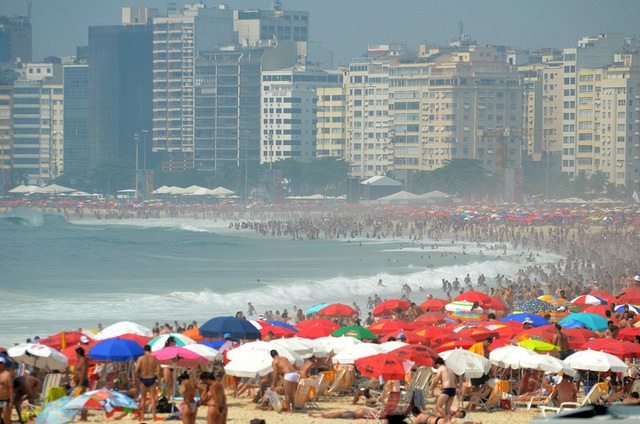 Copa's must-see places
Copacabana comes alive at night with the kiosks and bars that set the tone for the evening. Then, of course, there is the famous Copacabana Palace Hotel close by, for those looking for some luxury. However, the hotel is worth a visit even for budget travelers for an afternoon cup of tea at the poolside with the magnificent Sugar Loaf and Corcovado mountains in the background. At the tip of the beach is Forte de Copacabana, formerly a military establishment, that is now a cultural center open to visitors. Go there for an astounding view of Copacabana, Ipanema, and Leblon.