Rio de Janeiro
Visit the Leme Beach | Rio Beaches
Next beside Copacabana Beach, Leme is a quiet place and has some great views from Copacabana and other parts of Rio.
To witness the most beautiful sunset, a visit to Leme Beach in Rio is a must. The beach is located in a quiet neighborhood north of Copacabana, stretching from Morro do Leme or Leme Mountain to Avenida Princesa Isabel, the street that divides Leme and Copacabana. Smaller than Copacabana Beach, Leme provides visitors a relaxed atmosphere to soak in the sun and breathtaking views of the mountains to the left and Copacabana to the right.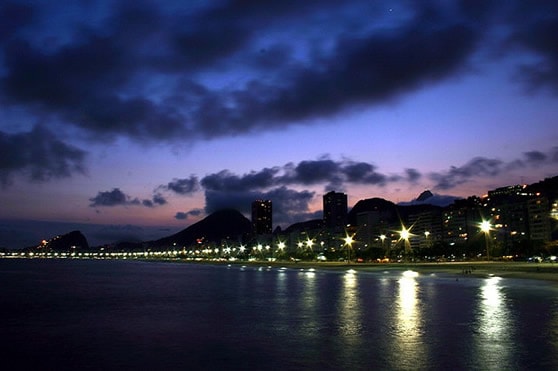 Leme – A family beach
Leme beach is a place to find families and locals that live in the neighborhood enjoying themselves in the tranquil surroundings. The beach is accessible from any area in the South Zone of Rio. From Copacabana beach, Leme is a short stroll away down Avenida Atlantica. From Ipanema and Leblon it is advisable to hop a bus or take a short cab ride to the beach. Buses that ply along Avenida Nossa Senhora de Copacabana will take you to Avenida Princesa Isabel. In addition to enjoying beach-life at Leme, a trip to Leme Rock is a must for any visitor. The Rock is a famous fishing spot, a gastronomic center, where you can taste some of the most delectable dishes and a picturesque view of Copa and Leme Beach. You will find locals fishing along the Caminho dos Pescadores or Fisherman's Pathway.
Sightseeing and accommodation
Close by is Leme Fort or Forte Duque de Caxias which is open to the public on Saturdays, Sundays, and holidays. For a close encounter with Sagui monkeys, take a short trip to Morro do Leme at the end of Leme Beach. Carry some fruits along and you can get as close as you can to these monkeys. The mountain is home to over 90 animal species and 10,000 varieties of plants. Along the beach are Leme Othon Palace, Golden Tulip Continental, and Acapulco Copacabana Hotel, which offer luxurious accommodation with true Brazilian hospitality. When in Rio, make sure you visit Leme Beach for a quiet, relaxed vacation.