Ipanema For Gays in Rio Carnival 2020
Discover the Gay Ipanema. A neighborhood full of options.
The Ipanema neighborhood in Rio is one of the primary gay districts. Ipanema Beach is known worldwide and the main streets, Farme de Amoedo and Av. Vieira Souto are filled with gay bars, nightclubs, hotels, restaurants and shops. There are also several cultural and natural attractions in the area.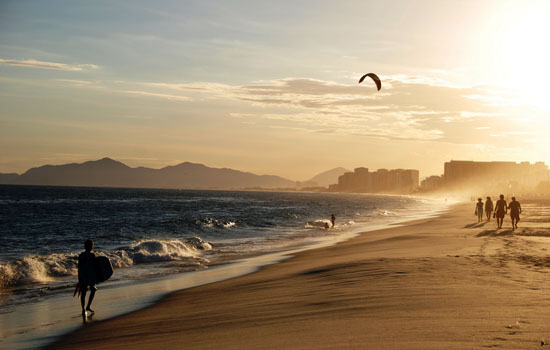 Ipanema Beach
The beach is the favorite place for Barbies to go and show off their muscle bound bodies. Gays tend to congregate on Ipanema Beach just east of Farme de Amoedo in the Farme Gay area. It has become such a quintessential gay hangout that even the vendors fly the gay rainbow flag. This area of Ipanema beach is visited by non gays as well. Families, local celebrities and heterosexual people all meet here. Gay couples need not be afraid of showing affection as it is universally accepted in the Farme Gay area of the beach.
Shopping
There are plenty of gay friendly shops in Ipanema too. The main shopping street is Rua Visconde de Piraja but the side streets contain some quaint little boutiques as well. Jewelry lovers would be wise to visit the streets between Garcia D'Avila and Anibal de Mendonca. Known as Diamond Row there is a gemology museum as well as a workshop tour of famed jeweler, H. Stern. Rua Garcia D'Avila has some of the most exclusive shops in the area including Cartier, Louis Vuitton and Mont Blanc.
Nightlife in Ipanema
Rua Vinicius de Moraes is a great street for dining, bar hopping and people watching. There are also plenty of Baixos in Ipanema. A Baixo is an area that contains a high concentration of cafes and bars. They usually attract the younger crowd. The best known in Ipanema are Baixo Quiteria on Rua Maria Quiteria and Baixo Farme on Rua Farme de Amoedo. The most popular gay nightclubs are Le Boy in South Ipanema, Galeria Cafe and Dama de Ferro.
Farme de Amoedo Street
One of the best known gay areas in Ipanema is Farme de Amoedo Street. It runs from Vieira Souto to Alberto de Campos Street. The Farme de Amoedo block between Teixeira de Mello and Joana Angelica streets has the highest concentration of gays in the city. There are many bars and fine dining restaurants here that cater to the gay crowd. Some of the best gay bars in this area are Casa da Lua, Bofetada Bar, Galeria Café, Dama de Ferro and Lounge 69. During Carnival the bars and restaurants in this area are completely packed with partygoers.
The Carnival
Rio Carnival is celebrated throughout the whole city. The most popular Carnival event for the gay crowd that takes place in Ipanema is the Banda de Ipanema street parade. Banda de Ipanema was formed in 1965 and declared part of Rio's cultural heritage in 2004. The band marches through the streets of Ipanema with revelers in tow. Perhaps the best sight in the parade is the hordes of drag queens in outlandish costumes strutting their stuff along the boulevards. The public is welcome to join in with or without a costume