Rio de Janeiro
Discover the Historical Side of Rio in Centro or Downtown Rio
From Museums to Churches: Uncover Centro's Rich Heritage
While major Brazilian companies such as Vale, Petrobras and Eletrobrás have their headquarters here, you will also find numerous monuments of historical and cultural importance, as this was one of the principal areas around which the city developed during the Portuguese reign, which began in 1502.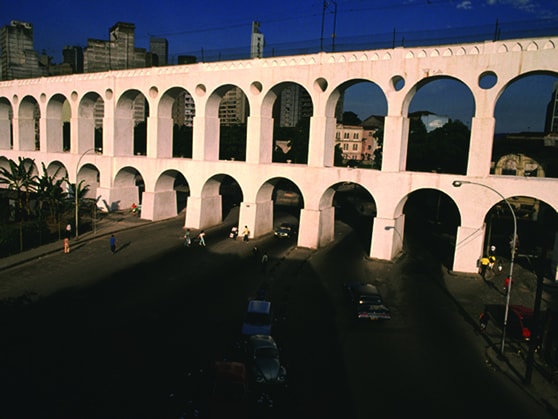 A multitude of museums and cultural centers
The National History Museum is considered to be one of the best museums in Rio de Janeiro, containing over 250,000 relics ranging from sizes tiny to large and depicting Brazil's history over the ages. The Museu de Arte Moderna which was almost completely destroyed in 1978, contains 11,000 permanent pieces, including works by Maria Martins and Bruno Giorgi. In addition design and photography exhibitions are held regularly, as are film festivals.
Centro Cultural do Banco do Brasil, once the headquarters of Brazil's national bank has been since 1989, a major cultural center. Located within a beautiful neoclassical building, architecture enthusiasts can marvel at the impressive domed atrium. Exhibitions are held on a regular basis here and there is a café and small bookstore, selling mainly books on architecture. 
The Navy Cultural Center located on Av. Alfredo Agache, contains exhibits ranging from models of royal and wartime ships, to relics from several shipwrecks. Located outside the museum are a submarine built in the 1970's and a World War II destroyer.
Churches and Cathedrals
A number of historically and architecturally important churches are located in Centro, a few of which are mentioned here. Completed in 1620, the Convento de Santo Antonio is the oldest church in Rio de Janeiro and contains beautiful marble statues and ceiling frescos. The Igreja de Nossa Senhora da Candelária stands on what was originally the site of a chapel dedicated by a sailor who made it home after braving a fierce storm. The most imposing of the city's churches, it is also a popular venue for celebrity weddings. The church's tiles were shipped from Lisbon, marble from Verona and the bronze main doors from France. In contrast to the several century old churches is the modern concrete Catedral Metropolitana, covered with small rectangular windows. On sunny days, these strategically placed windows disperse the sunlight on elaborate stained glass, creating a glorious sight.
Praca XV square
Considered to be the most important square in all of Rio de Janeiro, Praca XV marks the spot for several of Brazil's historical landmarks, including being home to Portuguese royalty, the coronation of Dom Pedro I and II, the abolition of slavery and the deposition of Dom Pedro II in 1889. There is plenty to see around this area. This square was also the seat of Brazil's government from 1743 to 1889. The Imperial Palace today houses art galleries which have on display exhibits, such as maps of colonial Rio, ancient weapons and instruments from ships. A theatre, library and restaurant are also housed inside. The Tiradentes Palace, also located in this area, house the country's legislative assembly and contains a statue of Brazil's leading member of the revolutionary movement - Joaquim Jose da Silva Xavier.
Ilha Fiscal Palace
Located in the Guanabara Bay, this bright green palace with exotic stained glass windows, looks like something out of a fairy tale. Originally constructed as a customs verification point, its historical importance arises from the fact that it was the venue for the last official ball of the Portuguese empire, before Brazil was declared a republic in 1889. Today guided tours are conducted, which leave from the dock near Centro.
Music and Book Stores
Centro has a number of music and book stores, and if you have a passion for old records or second books, this area is sure to prove rewarding. At Empório Musicale you will find any number of Brazilian music LPs to choose from, while Casa Oliveira, one of the most famous music stores of Rio de Janeiro, sells a lot of the music that is played at Carnival parades, as well as musical instruments, such as mandolins and electric guitars. Berinjela is also well known for rare samba CD's.
  
Livraria Imperial sells books and music, while Nova Livraria Leonardo da Vinci has a huge collections of foreign language, art and photography books. Livraria Rio Antigo, which is 75 years old, specializes in rare and antique books and one can find plenty of English books here. This store also holds periodic auctions of rare books.
Eating out
Centro has numerous restaurants which offer a variety of food ranging from fine dining to budget meals. Cais do Oriente housed within a converted 19th century warehouse, is an expensive restaurant with luxurious antique décor, serving a mix of Mediterranean and Asian food. The high class Confeitaria Colombo which is well over 100 years old, is a spectacular Victorian style tearoom serving sandwiches, tea and other delightful snacks in 1920's style chinaware. The Via Sete Grill, a popular lunchtime spot for office workers, offers affordable and hearty meals, served up quickly by friendly waiters.
Shopping for Carnival costumes
At the enormous street bazaar, Saara and its surrounding lanes, amazing bargains can be found for almost any item under the sun, including Carnival costumes. Saara has a huge resident population of Greeks, Turks, Lebanese and Syrians who have been living and working here for over a century. Casa Turuna on Rua Senhor dos Passos, which has been around since 1920 is the most highly recommended place in Rio de Janeiro for finding items to complete your Carnival get up.
Centro at Carnival Time
During the Carnival a number of events occur in this neighborhood. Samba Land at Praca Onze is the venue for a number of live concerts and has plenty of food stalls, while street parties take place at Cinelandia on all the nights. The street band competition with over 300 participating bands, takes place at Avenido Rio Branco.